NATURAL LIGHT
& HOW TO CONTROL IT
Controlling it at the Window
Ever since Frank Lloyd Wright broke out of the Victorian box to create an American style of architecture that opened rooms to the outdoors, and John Lautner used walls of glass in his designs for houses in and near Los Angeles to merge indoor and outdoor spaces, architects have sought to bring the sunshine inside and homeowners have been faced with the challenge of enjoying the light and views, while maintaining privacy and temperature and UV control.
Today's savvy West Coast designers often favor Hunter Douglas window coverings for the variety and flexibility they offer in controlling both light and views from wide open to the outside sunshine to the glow of diffused light, the dramatic effect of deflected light and the warmth of screened light.
In addition to lots of sunshine, the West has an abundance of great views. "Every beautiful view deserves a frame," says Kenneth Brown. One of the most successful West Coast designers, Brown has appeared as a design expert on numerous home improvement cable television shows and in March 2005 debuted in "Redesign," his own new weekly series on HGTV.
Within a frame of soft, luxurious draperies Brown often uses Silhouette® window shadings from Hunter Douglas. Featuring rotating soft fabric vanes suspended between two sheer panels, Silhouette shadings diffuse light to create a variety of moods in a room and provides UV protection without compromising light or the view.
Brown favors this product's "clean, tailored look" And Silhouette shadings recently got even better! Top-Down/Bottom-Up TiltAnywhere™ hardware allows the shadings to be operated from the top down which lets the sun shine in, while keeping the lower part of the shading drawn for privacy or from the bottom up or in combination.
With his own TV show and an active design practice, Brown has his finger on the pulse of West Coast design. "The organic look, including woven wood shades, is very popular in California," he says. Hunter Douglas Provenance® woven wood shades offer stylish designs in reeds, grasses, bamboo and wood with a modern operating system that functions flawlessly.
Kimberly Biehl Schmidt, head of Non Toxic Interiors, a Los Angeles-based design firm, counts Madonna and Demi Moore among her clients. Schmidt is another fan of Silhouette shadings. "Silhouette shadings gives rooms a soft, warm glow, blocks the strong rays, is easy to clean and rolls up to nothing. It is wonderful for the beach," she says.
"So much strong, consistent sunlight needs to be controlled," says Molly Luetkemeyer. Known for her fresh, colorful approach to interior design, Luetkemeyer established her own firm, M Design in Los Angeles, after completing UCLA's prestigious interior design program. "I have found Hunter Douglas products to be very reputable," she says.
Vertical blinds have always been a practical and popular choice for sliding glass doors in the West. For an updated, softer vertical treatment, Hunter Douglas offers Luminette® Privacy Sheers, a covering similar to Silhouette shadings but on the vertical featuring both fabric sheers and privacy in a single product.
The sheers filter and diffuse light, while the vanes when closed provide privacy. Moreover Luminette sheers are available with PowerGlide 2.0 remote control motorization, which both traverses the sheers and rotates the fabric vanes. It is a popular option for the large walls of windows and sliding glass doors often found in Western homes, as is Duette® honeycomb shades with the Vertiglide hardware system which allows the honeycomb fabric to be oriented vertically with shade operating sideways.
Offering heights up to 120-inches and with no bottom rail, Duette with Vertiglide is ideal for covering sliding glass doors and window walls. Duette honeycomb shades are also highly energy efficient because air is "trapped" in the honeycomb pleats. In fact, Hunter Douglas Duette Architella™ honeycomb shades are the most energy efficient nationally branded product on the market, a big plus in the West where cooling costs are often a concern. With more than 300 SKUs, a full range of opacities and multiple specialty hardware systems, Duette shades have an attractive option for any décor.
The downside of West Coast sunshine can be faded furnishings as well as high cooling costs. All Hunter Douglas window coverings are rated for UV protection. With Hunter Douglas window covering products homeowners can have sunshine, views, privacy and the ability to control the appearance and mood of their rooms…California dreaming for today's décor from Hunter Douglas.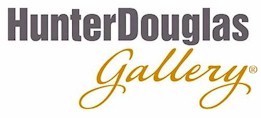 These are only some of the ingenious window coverings from Hunter Douglas that are available at The Blind Alley and that give people the emotional satisfaction and practical consequences that come from being in control of the light entering their homes.
For more information, The Blind Alley, a Certified Hunter Douglas Window Fashions Gallery Dealer is located at Bellevue, Washington. Visit or call The Blind Alley.
Hunter Douglas Inc. is a national sponsor of Habitat for Humanity, covering windows in every Habitat home built in the U.S. and Canada. Headquartered in Pearl River, NY, the company is the leading manufacturer of custom window coverings in North America. Click here for a Brief History of Hunter Douglas.
---
To learn more about The Blind Alley visit our Company Profile.

---

Click here to search our Website or visit our website Navigation page or website Directory.
---