HUNTER DOUGLAS LIFTING SYSTEMS
Easy Operation
If your window treatments cover cathedral windows, skylights, or any hard-to-reach areas, or if someone in your home has limited hand dexterity, Hunter Douglas can provide a lifting system for your window coverings that fit your needs and style.
Their motorized lifting systems enable you to open, close, tilt or traverse your Hunter Douglas window coverings using a remote control or wall-switch.
And many of Hunter Douglas lifting systems eliminate cord hazards, a safety advantage if you have small children or pets.
Motorized and innovative manual lifting systems are available for many Hunter Douglas window coverings. Below is a list of the different Hunter Douglas lifting systems we offer at Blind Alley.
Click here to view the Hunter Douglas Operating Systems Video
---
Hunter Douglas lifting Systems Include:
Motorized Options
PowerRise 2.0 with Platinum Technology is a battery-powered patented system which allows you to raise or lower window coverings individually or in groups from a sleek handheld remote control.
PowerGlide 2.0 with Platinum Technology uses a patented remote control battery-powered system to tilt and traverse vanes and sheers on your Luminette and Alustra Luminette Privacy Sheers.
PowerTilt 2.0 with Platinum Technology battery-powered lifting systems let you easily tilt slats open or closed using our patented remote control technology.
Hunter Douglas hard-wired systems with Platinum Technology offer simple wiring solutions for guaranteed operation and precise control via a contemporary-styled wall-switch or remote control. Plus, the hard-wired solution can easily integrate with new or existing home automation systems.
With the Radio Frequency (RF) Only Remote Control systems, the operating signal from the remote control is "broadcast" like a radio transmitter.
Tilt-Only, Full Tilt and Traverse are systems available with select Hunter Douglas Vertical Blinds, giving you the option for motorized vane rotation.
Simplicity™ skylight lifting system is specifically manufactured for rectangular windows and especially suited for skylights. Manual systems also available.
---
Innovative Manual Options
The UltraGlide® system uses a single retractable cord mechanism to raise, lower and tilt the shade.
The LiteRise® touch system allows you to raise or lower a blind with a single touch. The blind raises or lowers evenly to the desired position and then holds that position, locking in automatically.
The Vertiglide™ vertical pleat system is the ideal choice for side-to-side openings, sliding glass doors or as a room divider.
The EasyRise™ continuous cord loop system is the easy way to lift and lower Hunter Douglas honeycomb shades.
SoftGlide™ is a clutch-operated, continuous cord system ideally suited for large windows and other difficult-to-lift applications.
The PermaTilt® wand control system combines both tilt and traverse functions in one easy-to-use control, providing a safer environment for children and pets by completely eliminating the standard chain and cord.
Vertical blinds outfitted with the PermAssure® safety wand eliminate looped pull cords completely, replacing them with a wand that remains safely out of a child's reach.
Lantana™ is a patented gear-driven system for one-touch control for Hunter Douglas Palm Beach Polysatin shutters.
Palmetto™ is a traditional tilt-bar system that presents a more classic shutter look.
---
Hunter Douglas Window Coverings are available from The Blind Alley in Bellevue, Washington. For more information, contact The Blind Alley and visit our Hunter Douglas Gallery showroom.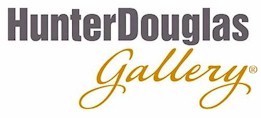 Or view Hunter Douglas Window Coverings in the privacy of your home with one of our Window Fashion Designers.
To view more information regarding Hunter Douglas Window Coverings visit the Hunter Douglas website.
Hunter Douglas Inc., headquartered in Pearl River, NY, is the leading manufacturer of custom window coverings in North America.
---
To learn more about The Blind Alley visit our Company Profile.

---

Click here to search our Website or visit our website Navigation page or website Directory.
---