FIVE ELEMENTS OF DECORATING
As you develop your overall decorating scheme, consider the following:
1 Space determines what you have to work with in each room. To visually expand, keep the color contrast between wall and window low. To make a room feel cozier, create a high contrast. Natural light and light diffusion through window coverings create dramatic visual effects in a space.
2 Lines impact the overall feel of a room. Vertical lines add height and dignity. Horizontal lines suggest relaxation and informality. Round windows, fabric folds and soft objects lessen the harshness of a room's lines.
3 Form is the shape or combinations of shapes of the elements in a room. If you have square windows, window treatments can lengthen them and give them a taller, more rectangular look.
4 Color determines the mood in a room. It intensifies as you increase the area of coverage. As a guide, allow your main color to occupy 75 percent of a room (including floor and wall space), with 15 to 20 percent for your secondary color and 10 percent for an accent color. Use neutral-toned window treatments in rooms where you'll spend a lot of time or when you want other furnishings to make bold statements. But when you want window treatments to be the special accent or coordinating feature that pulls a room together, Hunter Douglas offers an abundance of colors, textures, sheens, and treatments to provide privacy and light control and meet your decorating needs.
5 Texture adds interest to a room. Window treatments in metal, wood, and a vast palette of fabric colors, patterns and finishes offer many textural options to explore. Dramatic contrasts are in.
---
Think-it-Through Decorating Tips
| | |
| --- | --- |
| | Utilize the same floor covering throughout to make all the rooms feel bigger. |
| | Avoid clutter by displaying only a few large and wonderful objects you love. |
| | Use a few large pieces of furniture to make a small space appear larger. |
| | Group related items on a wall to create a strong focal point and pull a room together. |
| | Make comfort and convenience your top decorating priority when arranging furniture. |
| | Focus next on composition (color, balance and scale) to create visual interest and add your personal style. |
| | Present a consistent exterior image with white backing on all window treatments. |
---
| | |
| --- | --- |
| At right, Hunter Douglas Brilliance® pleated shades, available in numerous colors and fabric styles, can function as an eye-catching room accent or the one feature that brings an entire room together. | |
---
Hunter Douglas Window Coverings are available from The Blind Alley in Bellevue, Washington. For more information, contact The Blind Alley and visit our Hunter Douglas Gallery showroom.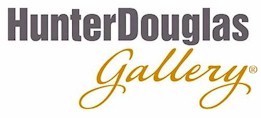 Or view Hunter Douglas Window Coverings in the privacy of your home with one of our Window Fashion Designers.
To view more information regarding Hunter Douglas Window Coverings visit the Hunter Douglas website.
Hunter Douglas Inc., headquartered in Pearl River, NY, is the leading manufacturer of custom window coverings in North America.
---
To learn more about The Blind Alley visit our Company Profile.

---

Click here to search our Website or visit our website Navigation page or website Directory.
---