HUNTER DOUGLAS
BRIDGEWAY™ SPECIALTY SHAPES
PORTFOLIO
Bridgeway™ Specialty Shapes Enhance Special Windows
Arches, eyebrow and circle windows provide the crowning touch to many home designs. Now there's an extraordinary new way to dress them up and block out harsh sunlight.
Hunter Douglas Bridgeway™ specialty shapes, the newest addition to the Hunter Douglas Custom Shutter Collection, are designed for perfect arch, eyebrow, extended eyebrow, quarter circle, extended quarter eyebrow and perfect circle windows. They accentuate and enhance a window's distinctive shape while providing light control, mood control and energy efficiency.
Six options are available featuring operable louvers for optimum view and flexibility, and outside mounting to eliminate light gaps.
Hunter Douglas Bridgeway shapes are always outside mounted, but can be used with both inside and outside mounted products. Valances can be ordered to create alignment when a different product is used below a Bridgeway product.
Designed to Coordinate
Made of Hunter Douglas NewStyleŽ Shutters hybrid material and available in 20 popular paint colors, Bridgeway specialty shapes will coordinate with many Hunter Douglas window fashions products, including Country Woods wood blinds, Crosswinds wood vertical blinds, Chalet Woods wood blinds and the EverWood Collection of alternative wood blinds. You can order Bridgeway specialty shapes without using templates.
Fast delivery
Like other products in the Hunter Douglas shutter collection, Bridgeway specialty shapes are manufactured in the United States. This provides customers with the fastest delivery time in the industry - just five weeks - along with the ultimate in peace of mind, the Hunter Douglas Lifetime Limited Warranty.
Benefits of Bridgeway
| | |
| --- | --- |
| | Revolutionary design - Custom built to fit a full-range of perfect and imperfect specialty shapes. |
| | Versatile - Coordinates with a wide variety of blinds and verticals, as well as other window fashions. |
| | Exceptional strength - Manufactured using advanced modern-day materials for strength, stability and straightness. |
| | Energy efficiency - Reduces home heating and cooling costs by providing 2.75 R-value and .21 shading coefficient. |
| | Mood control - Louvers tilt to create ambiance by letting in more or less outside light. |
| | Light control - Precision alignment between the louvers and frame blocks harmful UV rays and ensures privacy. |
| | Superior finish - Finely painted finish is satin smooth for a beautiful look and feel. |
| | Enhanced safety - No cords, so children and pets stay safe. |
| | Easy care - Wiping with a soft, dry cloth keeps louvers clean. |
| | American made - Custom built to exact specifications in the United States for excellent quality and quick delivery. |
| | Lifetime Limited Warranty - Every specialty shape comes worry- free when properly installed by a trained Hunter Douglas Window Fashions Installer. |
---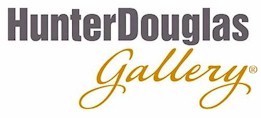 Hunter Douglas Bridgeway™ Specialty Shapes are available from The Blind Alley in Bellevue, Washington. For more information, contact The Blind Alley and visit our Hunter Douglas Gallery showroom.
Or view Hunter Douglas Bridgeway™ Specialty Shapes in the privacy of your home with one of our Window Fashion Designers.
To view more information regarding Hunter Douglas Bridgeway™ Specialty Shapes visit the Hunter Douglas website.
Hunter Douglas Inc., headquartered in Pearl River, NY, is the leading manufacturer of custom window coverings in North America. Click here for a Brief History of Hunter Douglas.
---
To learn more about The Blind Alley visit our Company Profile.

---

Click here to search our Website or visit our website Navigation page or website Directory.
---